2021.08.25 ~ 2022. 02
CONNECTfridge: Interactive Fridge for reducing Food Waste

CHI 2022 Student Design Competition
Seonghee Lee , Daniela Rodriguez Chavez
Ann S. and Robert R. Morley Research Grant ($1000)


The Final Paper is available here
https://files.cargocollective.com/c1344870/CONNECTfridge.pdf


Food gives us energy and nourishment. However, the tremendous amounts of food waste we produce show how little consideration we put into thanking the environment for our food. As a way of showing gratitude to nature, we have designed an interactive fridge that helps people make conscious choices on reducing food waste. We use the eight-step persuasive design process to create an interactive fridge that reminds users of the connections of food waste to nature. Through this design we hope to contribute in showing gratitude to nature by reducing food waste.
Using 2011 metrics, the total monetary waste from consumers comes out to be around $124 billion, or a wasted $400 a year per person [1]. However it is not just an economic issue, there are wider implications; In the United States, avoidable food waste accounts for about 2% of the national emissions [1]. Interestingly enough, previous literature has found that shopping routines and financial concerns are main variables in determining food waste on the side of the consumer [2] [3]}. Because this problem has been analyzed in a variety of ways, we wanted to provide a unique perspective using gratitude as a lens. Because shopping routines and monetary spending that cause more food waste both stem from not knowing what is in your fridge, we focused our efforts on building a fridge interface that improved these habits in a minimally invasive way.
Using the Stanford Persuasive Technology Lab's 8-step persuasive Design Process, we designed a prototype of an Interactive Fridge.
Final Version
Final Home Screen
Adding Items
Adding Items Incorrectly
Adding Items Incorrectly
Checking Expiry Dates
Final Drop Downs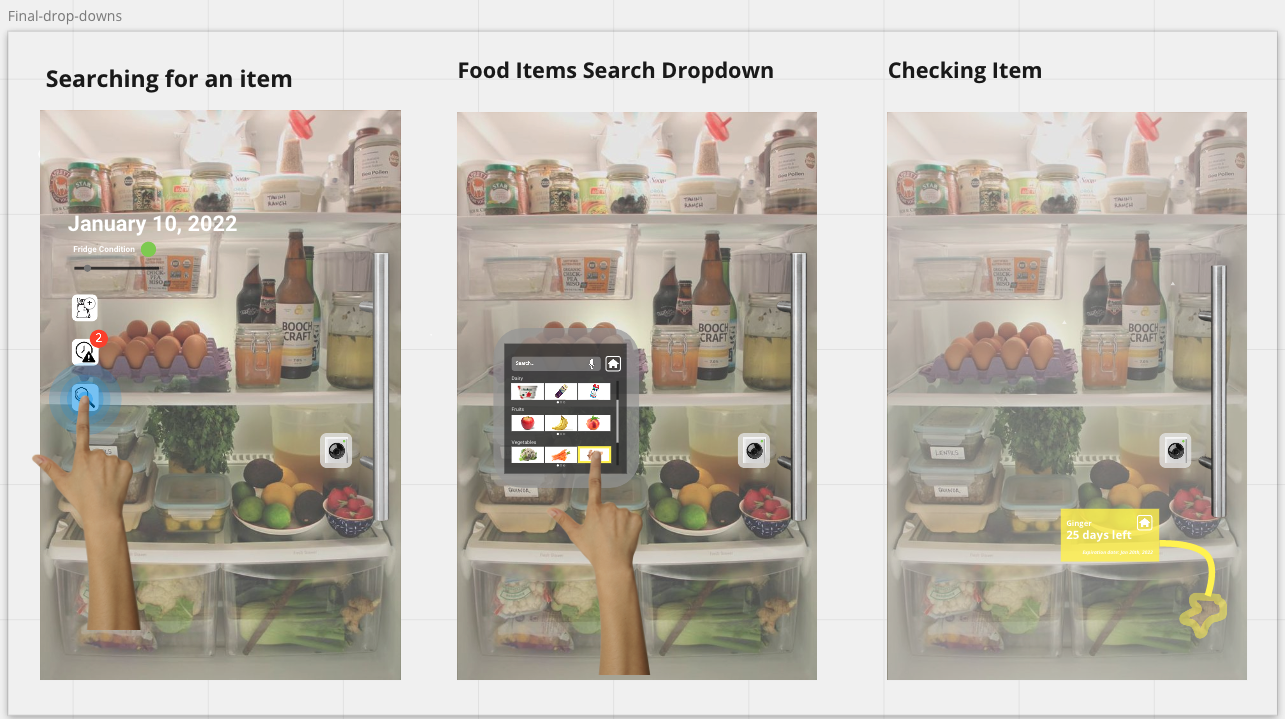 Design Iterations

Draft 1
Draft 2
Draft 3
The study of this paper will continue with further user research and a creation of a prototype.
As always, feel free to contact me if you have any questions!
︎Seunghee Lee